Painting Parties & Private Events in Penfield, NY
The Art Stop is proud to offer our all-inclusive workshops, Stop, Paint & Sip, for people of all ages in the Greater Rochester community. Stop, Paint & Sip is not linked to any franchise, which allows us to come up with our own images to paint! All materials are included — supplies, and instruction — when you sign up for a Stop, Paint & Sip workshop. We will even provide the food and wine, just bring your imagination and have some fun!
Start out with some wine and horsd'oeuvres, then paint a canvas, tiles with alcohol inks or glasses! You don't have to be an artist to try Stop, Paint & Sip. This workshop is loads of fun and our instructors will break it down into understandable steps. For glass painting you can even pick the colors you like and paint stripes, polka dots or swirls and it comes out looking funky and cool!
Stop Paint & Sip workshops can be booked as a private party of 8 people or more ($5 less per person) You choose the type of workshop and if it is canvas, you choose the image. Or, you can sign up for open enrollment and paint the image on the calendar or glass or alcohol ink on tile.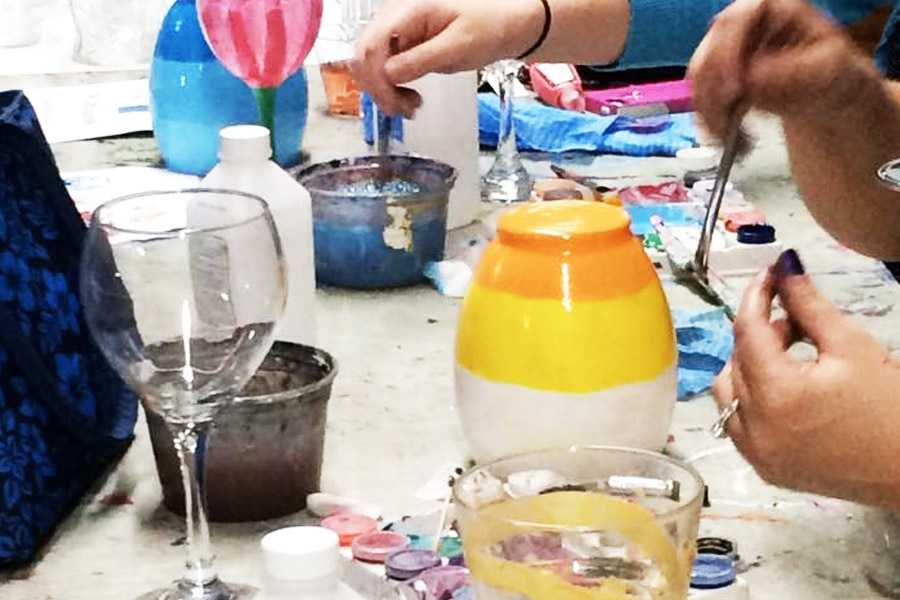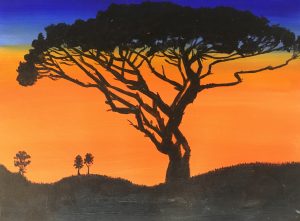 Stop, Paint & Sip workshops at The Art Stop is a great event for girls night out, couples, friends, and families! We will provide the wine, food, and fun and all you have to bring is yourself! Call us today at (585) 872-5710 to sign up for our next workshop!
Art Instruction, Camp & So Much More!
Located in the Village of Penfield, NY, The Art Stop LLC carries a wide range of fine art supplies, has an art gallery that features work from local artists, a custom frame shop , and a 3,000 sq. ft. studio. Our studio is where we conduct fine art lessons for children and adults, "The Big Fat Messy Art Camp", birthday parties for children, private events and Stop, Paint & Sip.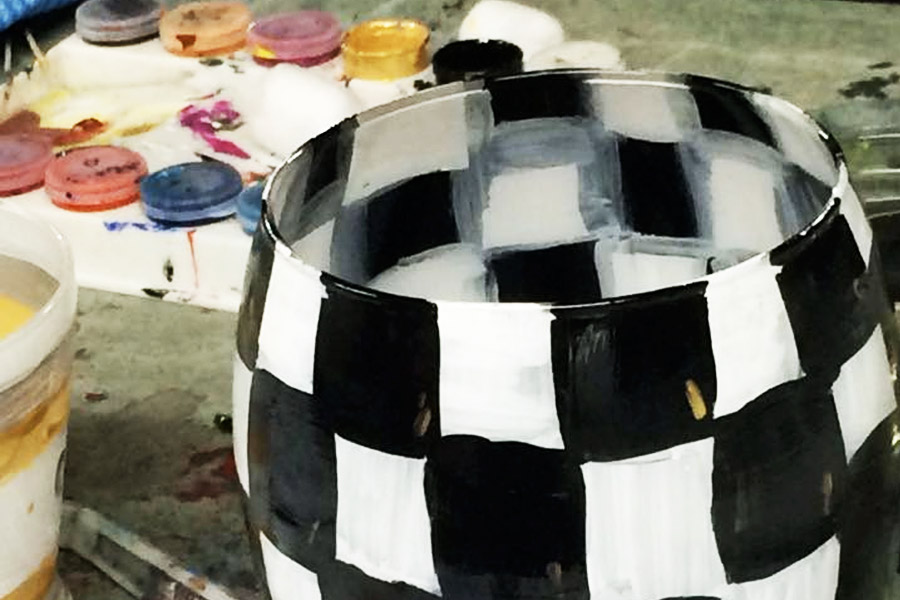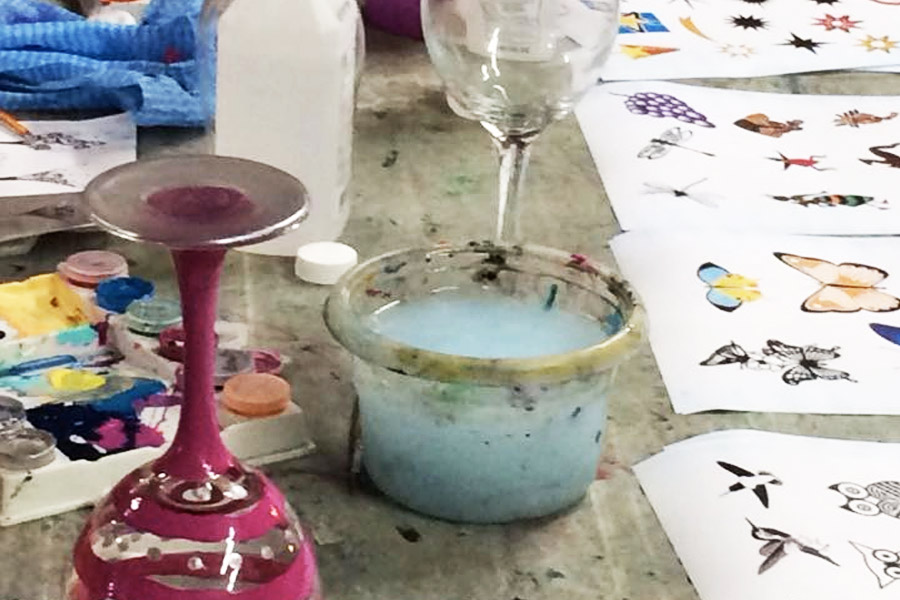 Booking Now For Open Enrollment & Private Parties!
Booking a private party for any occasion is simple and easy! Just call us and book your private party of 8 to 20 people. All supply and instruction are included in the price, even the food and wine! Private parties are priced at $40 per person for the 3 hour workshops, and $35 for the 2.5 hour workshop. You choose the image for your party
Cost: $30/person for private parties (min. 8 people) or $35 open enrollment
Workshops run 2.5 – 3 hours long
EVERYTHING is Included in the price – All Supplies, Food, Wine & Instruction!
Limit 40 people per workshop; Minimum 8
<div class="mceTemp"></div>
($35 Open Enrollment, $30 Private Party 8 or more)
2 Hour Workshops Include:
Alcohol inks on Tile (2 tiles)
Glass Painting (2 pieces of glassware, including wine glasses, candle holders, martini glasses, ornaments, bowls, vase, etc…
($40 Open Enrollment, $35 Private Party 8 or more)
2.5 Hour Workshops Include:
 Sunflower
 Cactus Scene
 Tree Silhouette
 Clouds & Water
 Country Pattern
 Penfield Skies
($45 Open Enrollment, $40 Private Party 8 or more)
3 Hour Workshops Include:
 Peacock
 Poppies
 Nighttime Tree Fantasy
Fall Barn Scene
 Winter Scene
 Looking Upward
---
We will provide wine for certain workshops, if you prefer to beer you may bring 2 beers per person. It is against NY State law to leave with an open container. The alcohol is for you to consume while you are here. Once an alcoholic beverage has been opened, it may not be removed from the studio.
Payment online or by phone is required to guarantee your reservation. We plan staffing, food and supplies accordingly, and cannot guarantee availability for walk-ins.
A refund or store credit will be given for anyone canceling with at least 48 hours notice. "No shows" with no notification will not be issued store credit or refunds.
As a courtesy to others, please arrive on time, we will have the food and drink ready so you cand get something to eat and drink so the class can start on time.
PAYMENT POLICY: Payment in advance is required to guarantee a reservation. If you prefer not to make a payment online, please call The Art Stop LLC at 585-872-5710 or visit us in person.
REFUND/CANCELLATION POLICY: Please provide us with 48 hour notice for all cancellations so that we can offer your spot to another customer. A refund or store credit will be issued for cancellations received at least 48 hours in advance. "No shows" with no notification or less than 48 hour notice will not be issued store credit or refunds. The Art Stop LLC reserves the right to cancel, postpone or change instructors, in unforeseen circumstances. Classes with insufficient enrollment may be canceled by our office. Customers will be notified 24 hours in advance and given the option to transfer to another class, receive store credit or a refund.
Stop Paint and Sip Schedule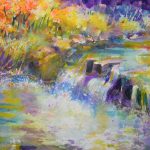 2:00-5:00
Ages Teen to Adult
Cost: $30 without supplies & $40 with supplies
Date: January 21st
Subject: Rocks & Water
Are you painting only what you see- or what you feel?
Awaken your inner eye with rocks and water workshop
In watercolor , ling non style
Watercolors
Old Towel
Chinese brushes
ink
WORKSHOP DESCRIPTION
 Chinese "Lingnon" school watercolors
This style encourages the student to paint freely and expressively.
 The class is designed to help you work more spontaneously.
 The "rice"or cotton paper used in the class is made to be brushed quickly.
 You will learn techniques meant to make the maximum statement, with a minimum of brush strokes.
Use colors /paper you have, or check materials list below:
Chinese chip colors are available through oriental art supply, Holbein are the closest in tube colors.
-A felt blanket , old linen tablecloth or towel  
-Two water buckets
-A palette for mixing colors
-Small spray bottles for water and paint
-I use sable brushes- small 6
medium 10-and large. Kosinski sable are best
for western watercolor paper.
-Water buckets -2
-Paper towels
-I use Gemini, Fabriano or Waterford paper ,cold press 140  or 200 lb
-Sumi e rice paper or double shuen (xuan) (oriental art supply OAS.com)
Holbein colors work best:suggested colors
Chinese White
Chinese ink
imidazolone lemon yellow
Royal Blue
quinocridone Red
yellow ochre
Burnt Sienna
Vermillion
viridian
 Other Options
Opera
peacock blue
compose green No.1
sap green
mineral violet
cobalt violet light
raw sienna
peach black
Materials List:
Sumi e rice paper or double shuen (oriental art supply) (The Art Stop) has a few rolls of sugi gama
-Water soluble Chinese ink ("The Art Stop" sells this in a bottle
-Bamboo brushes ,small medium and large  –
newsprint-Any watercolors (EXCEPT Cotman -this paint often has weak pigment )
Any watercolors (EXCEPT Cotman – This is student-grade paint and you need artist grade). Chinese chip colors are available through Oriental Art Supply.
Meanwhile, Holbein are the closest in tube colors.
A felt blanket, an old linen tablecloth, or a white towel.
A palette for mixing colors
Two water buckets one for clean one for dirty water
Small spray bottle for water, one for paint
http://artstopllc.com/event/chinese-lingnon-school-watercolor-workshop-jane-grace-taylor/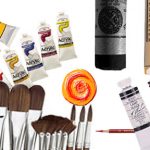 1/30/18-3/13/18  7:15-9:15 skip 2/20/18

$150 6 wks INCLUDES ALL SUPPLIES! Or $25 for one unit
Not sure what media will become your favorite? This class is a great way to explore 6 different mediums, a different medium each week. Find out which medium is right for you without making the investment into supplies you may never use again. This class will explore graphite pencil, watercolor, colored pencil, acrylics, oils and pastels. If you would like to try out just one of the mediums, you can do that too, for $25 you can take just one 2 hour class with supplies included. Call to find out which week the medium you want to try out is being featured. CALL FOR DATES OF SPECIFIC MEDIA SEGMENTS.
Typically:
Week 1: Graphite, including graphite powder, water soluble graphite, putty, tin, stick, pencil and water soluble carbon disks.
Week 2: Colored Pencil
Week 3: Watercolor
Week 4: Pastel
Week 5: Acrylic
Week 6: Oil
http://artstopllc.com/event/explore-the-medias/